True Artisan Candy For Your Customers

At Sweet Jules Gifts we know you are looking for a gift that will make your customers happy, make a lasting impression, and create a good connection. After all, this is what keeps your customers coming back for more. Look no further. Our caramel gifts provide an exceptional taste-experience. Our packaging is elegant and professional. And we make it easy and simple to give the best to your clients.
Co-branding – We can personalize your gift with a label or any corporate ribbons, stickers, or cards. This option is provided free of charge with a 30 day pre-order.
Affordable Pricing – Our caramel gift boxes are priced right for all budgets.
Timely Shipping – You pick the day and we'll make sure your gifts arrive on time. We ship within the continental United States. You simply provide the addresses and we do the rest.
Contact Us
320-282-8379 952-303-2926
Elegant Gift Boxes and Bags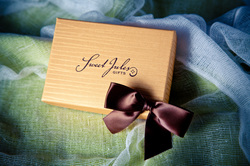 Choose from our selection of gorgeous packaging. We have gift boxes in three great sizes. Whether you are looking for a small gift to give to a group or something that makes an elegant statement about how you appreciate your customers, we'll put together just the right gift. Personalize your gift too with a gift card or any of your own business materials. Please call 320-282-8379 or email us at
Service
for pricing.
---
EIGHT PREMIUM FLAVORS
JULES OF PARIS
Our lusciously rich and buttery caramel is blended with dark chocolate and then sprinkled with Fleur de Sel salt to give you a taste of Paris.
VANILLA BEAN
Buttery soft, melt-in-your- mouth, silky caramel goodness. This one's the genuine article, a revitalized classic.
FLEUR DE SEL
Silky-soft and buttery caramel finished with our favorite sea salt. French Sea salt on our caramel is like turning up the volume of a favorite song, oh so much better.
DARK CHOCOLATE & SALTED PECAN
Dark chocolate with freshly roasted salted pecans, embedded in our luscious caramel. This is the Queen of turtles.
BANANAS FOSTER
Bite into the taste of caramel then await the tropical banana flavor as it floats to the surface to fill your mouth with the decadent taste of Bananas Foster.
SICILIAN ORANGE
Vanilla caramel infused with all the sunshine glory of a Sicilian citrus orchard.
CAFE ITALIANO
Rich Italian espresso blended into our luscious vanilla caramel. A satisfying and indulgent taste of Italy - ciao bella!
BEER & PRETZEL
Love great craft beer and crunchy pretzels? Here's one to belly up to the bar for. We use the most distinct and truly artisan-made MN beer along with our favorite MN pretzel and add them into our buttery caramel to give you a little happy hour party with every bite.